This week's Top Ten Tuesday was 'Hidden Gems' but I recently wrote a post on
Underrated YA Book/Series
so I didn't want to repeat or have a pretty similar post. So I decided to write mine on
Not So Hidden Gems
, which is basically me just writing about the books I've read recently!
Top Ten Tuesday ~ Not So Hidden Gems
Invictus - Ryan Graudin
I recently read Ryan's new book Invictus and really really enjoyed it. Farway and his crew aboard the Invictus totally reminded me of The Lunar Chronicles and the Six of Crows gang, there was this undeniable sense of camaraderie or humour between the characters so it was impossible to not fall in love with them. I'll have my review up very soon!
Autoboyography - Christina Lauren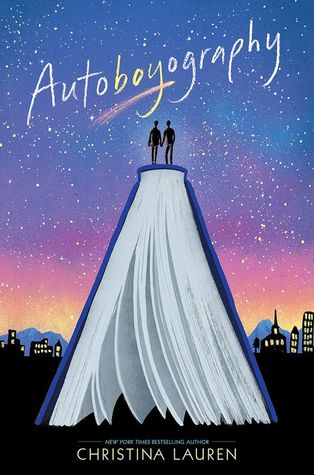 If you've been to my blog before you will have seen the shameless
gushiness
that was my review of Autoboyography. It was an incredible M/M romance that will stay with me for quite some time. It accurately captured falling in love for the first time and also had a big aspect one religion and I could not get enough.
The City of Brass - S. A Chakraborty
Strange the Dreamer
world-building and complex plot and the wonderful Roshani Chokshi's
A Crown of Wishes
stunning language and prose. This is a must read for fellow fantasy lovers and I am so ready for book two!
The Bloodprint is a wonderful fantasy book that's due out very very soon. It's full of strong independent women breaking slave chains, defying expectations, saving the world and just overall being badass. For me there wasn't anything not to love about The Bloodprint.
So this book killed me, I mean ripped my heart in two and threw away the pieces. Oh how I loved this book!! Lord of Shadows was incredible from start to finish, the action didn't stop the romance had me swooning and that ending..... I honestly don't know how I'm supposed to wait two years? Simple put,
I can't!
I finished Daughter of the Burning City mere days ago. This book is dark and delightful, it's about a girl called Sorina and her ability to create illusions. Sorina has created her own little family from her illusions but all of sudden what should be a figment of her imagination soon turns out to be real. Sorina's illusions are being murdered one by one and she must find the killer.
Remember Yesterday is book two in Pintip's
Forget Tomorrow
trilogy. I devoured Forget Tomorrow in one sitting and was super excited for book two. Remember Yesterday follows a different character but it in no way takes away from the overall plot. If anything I may have slightly preferred Jessa over Callie.
I was really looking forward to The Tiger's Watch as it features Tashi a gender-fluid main character who is bonded with a golden tiger and must spy on the Xian commander. I wanted to love this book but I'm saddened to say that I didn't. I had a few issues with world-building, the plot in general and the romance. I'll have my review up very soon for this one too.
I've seen this book pretty much everywhere, it's always coming up on my Goodreads and social media but for some reason I just never took the plunge to read it. However after some fangirling from my friend Jess @
Reading with Jessica
I decided it was more than time for me to find out what the fuss is all about. Annnnndddd I really should have read this sooner, I absolutely loved it. It was such a fun read and now I just want to read everything Elle Kennedy!
I'm still reading Legion right now, I'm about 60% of the way through. I've been reading this book for a few
weeks
now, yes weeks? I'm sure why, the book just isn't really pulling me in enough to read chapter after chapter which is really sad because I'm a huge fan of Julia Kagawa and I was enjoying the Talon series so much. Hopefully it will get better!
Well there's my Top Ten Choices!
Make sure to leave me links to yours!
Happy Reading