The Great Hunt
Author: Wendy Higgins
Series: Eurona Duology #1
Genre: YA, Fantasy, Romance, Retellings
Release Date: March 8th 2016
Book Length: 416
"Aerity…" Her father paused as if the words he was forming pained him. "I must ask you to sacrifice the promise of love for the sake of our kingdom."

She could only stare back, frozen.

When a strange beast terrorizes the kingdom of Lochlanach, fear stirs revolt. In an act of desperation, a proclamation is sent to all of Eurona—kill the creature and win the ultimate prize: the daughter of King Lochson's hand in marriage.

Princess Aerity knows her duty to the kingdom but cannot bear the idea of marrying a stranger…until a brooding local hunter, Paxton Seabolt, catches her attention. There's no denying the unspoken lure between them…or his mysterious resentment.

Paxton is not the marrying type. Nor does he care much for spoiled royals and their arcane laws. He's determined to keep his focus on the task at hand—ridding the kingdom of the beast—but the princess continues to surprise him, and the perilous secrets he's buried begin to surface.

Inspired by the Grimm Brothers' tale "The Singing Bone," New York Times bestselling author Wendy Higgins delivers a dark fantasy filled with rugged hunters, romantic tension, and a princess willing to risk all to save her kingdom.

Review
The Great Hunt starts with a ferocious beast terrorizing the land of Eurona, with little options the King makes a royal decree: Whoever kills the beast will win his daughter, Princess Aerity's hand in marriage. Hunters and villager's from all over the kingdom travel to Eurona to compete in this competition to one day become royalty.
Aerity was a likeable heroine, I never got the spoilt princess vibe from her and when she was dealt a bad hand, as in her father marrying her off to any stranger who happens to kill the beast, she takes this in her stride with her head held high. Aerity cares a lot for her family, this is evident by allowing the hunt to proceed but I loved how she showed a lot of love to the royal lashed healer, Mrs Rathbrook. The lashed are people who are capable of wielding magic, however it has been banned in Eurona, anyone who is caught with the visible signs of using their magic (lashed marks/lines on fingernails) are put to death. Aerity didn't treat Mrs. Rathbrook with the same prejudice are those in the kingdom would, Aerity wasn't nothing but kind and considerate. Confession: Aerity totally reminds me of Merida!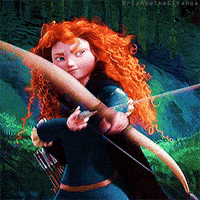 I have to be honest, this book was one of my most anticipated releases but not because it was a retelling or a high fantasy book or even because it had a intriguing plot, all of this is true, but because of the words: Wendy Higgins and Romance. How I loved the Sweet Trilogy, I mean Kaidan Rowe? *Major Swoons* I don't mind if my books are a complete romance fest, if they're written well then you can shove that well written relationship in my face all day and I will eat it up. Maybe it was my original anticipation and excitement for this romance that somehow made me feel it was somehow…. lacking.
Paxton was everything he was made to be in the synopsis, forever the brooding and rugged hunter with a deep dark secret that he can never reveal. Let's just say that Aerity and Paxton have an interesting first encounter but I must admit there was a strong whiff of insta-love here. And if there was one thing I was looking forward to in this book it would have to be the slow burn romance that I know Wendy can write *sighs *.
Paxton couldn't care less about Aerity, he's not entering the competition to win the girl, he wants to kill the beast thats responsible for murdering his people. On numerous occasions Paxton makes it painfully obvious that he is not interested in Aeirty, beside from physical attraction and this rejection only fuels Aeirty's obsession with Paxton. While I enjoyed Aerity's tenacious nature, I felt she didn't have a lot to go on, besides Paxton's lingering looks to actually chase him on.
I originally loved this book but upon some serious reflection I must admit that it was only my previous excitement that carried me through the first half. I think it all stems down to my expectations and experience with Wendy's work. However what I did love about this book was some of the secondary characters, for instance Paxton's little brother, Tiern was instantly likeable, I adored him from the very beginning, we also get to see a group of kickass women entering the competition and showing the men how it's done; hurrah! The Great Hunt features action, adventure for some characters, a complicated history with magic and a fantasy world that wasn't too detailed but I must say it was a good start to the series. After a fiendish cliffhanger I'm looking forward to the next instalment despite my earlier reservations I will always be eager for more of Wendy's work.